Joel McHale discusses a Community movie, his favorite summer cocktails and more
Summer is basically upon us (just one month away!) and the times have made it so much easier now to look forward to gathering with friends and enjoying the easy life that comes with this time of year. Some people may even enjoy sipping a delightful little cocktail with their friends and family while they're out enjoying those days, and if you need some help with ideas, none other than Joel McHale has a few tips and tricks for some of the best cocktails you can make.
Netflix Life caught up with McHale via video chat to talk about his recent partnership with Q Mixers and his exciting new title that comes with it. And we also talked about some new (and old) projects that McHale has been a part of in his recent career.
Read on for more on our interview with Joel McHale as he discusses his favorite, easy cocktail recipes, what he thinks about a Community movie, and a little teaser about Stargirl season 2. You can also watch the entire interview in the video clip below of our hilarious interview with the actor.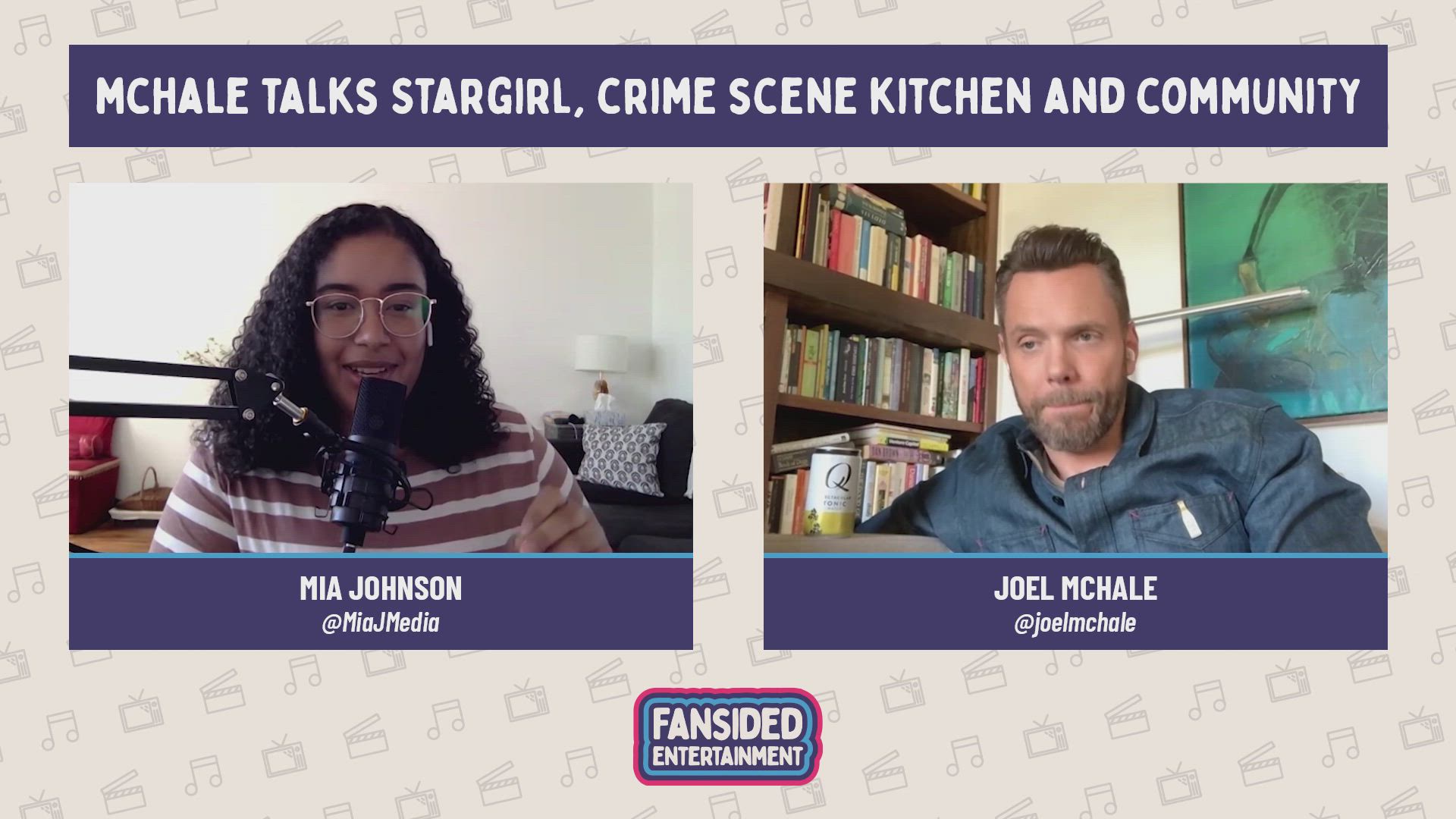 Joel McHale's easy cocktail recipes
Many fans of McHale will know that he's had some amazing gigs over the years. But now, thanks to Q Mixers, McHale gets to add another title to his resume: Chief Happy Hour Officer.
It sounds like a dream job, and the actor says the partnership is one that just makes sense because of his love for a good drink and the quality that Q Mixers delivers. (Seriously, you don't want your tonic going flat immediately after you mix it!)
So, what does McHale recommend if you need a quick and easy fix? "Buy a high-quality gin. Buy the tonic — you can either buy the… regular one; there's a tonic light, which I love — and a lime," he tells us. "And then get some ice. And you do two-thirds part gin — or even do half and half — and then add that lime, and you'll be like 'You know what? This is the greatest thing that ever happened!'"
It's a quick and easy recipe that even a novice (like myself) can pull off, and it's guaranteed to make for a refreshing start to the summer — hopefully one that lasts all season long. As McHale adds: "I mean, it's time for a good mixed drink."
Pointing to a bright red cocktail in his hand, he says: "[The] drink that I'm promoting that we're talking about is like the 'Five o'Clock' which is tequila, lime juice, Campari and ginger beer. And it's very refreshing… I don't know what you can't do other than buy some Q Mixers."
Are we getting a Community movie?
It's been well over five years now since we've seen McHale and the rest of the cast who make up Community, one of the hottest comedies to find its way to Netflix. And with fans discovering (and rediscovering) the show on the streaming platform, the old discussion has been brought up again: will we ever get our Community movie?
After all, the "six seasons and a movie" line was always teased in the series, so why not? When asked about this, McHale jokingly says: "I'm very excited. We've shot two and a half of them. We're almost done with the third. As I tell people, it's a trilogy like The Hunger Games. And you know, all the cast is back… It's gonna really help Donald Glover's career. But yeah, Peter Jackson shot it… we did what Tom Cruise is doing: we shot part of it in space!"
But in all seriousness, he mentions that he thinks it's more possible than ever for a Community movie to be made. With streamers like Netflix coming to the rescue when it comes to dead projects, it's certainly looking more and more like a possibility.
But, as McHales says, "You need money to make a movie. And so if someone puts up the money that will make it, cool! We just need like $250 million. My fee is very high!"
Joel McHale reflects on filming Community
Without a doubt, Community has featured some of the most unique storylines when it comes to television. And when asked if McHale could pick just one script that stuck out to him the most, he answered honestly, saying just about every script he got stuck out to him as unique.
"I would read these scripts, and they'd be so funny and so good," he says. "And then I would talk to other people on other shows where, you know, they would have these table reads and be like, 'It was a disaster.' And they'd have to start over.
"That didn't happen with Dan Harmon scripts," he continues. "After something like reading out loud the first paintball [script], or Dungeons and Dragons, or the multiple timelines. I mean, there's so many ones that I would stand up and look at the Sony execs and say, 'Don't change a word. Do not change a word!'"
Thankfully, McHale reveals not much did end up getting changed when it came to the scripts. And as someone who would righteously admit if he was in something "crappy," the actor says he always knew while he was shooting it that they were making something good. He calls the cancelation and one-season revival a rollercoaster ride, especially after some challenging ratings.
But all in all, he mentions with a completely straight face, "I look back on that as one of the best creative experiences of my life, and I hope that Donald Glover can finally get his career going."
What's in store for Stargirl season 2?
For those of you who have been keeping up with DC's Stargirl on The CW, you may have thought that McHale's appearance as Starman in the series premiere was a one-and-done thing. But (spoiler alert!), his character, Sylvester Pemberton, reappeared at the end of season 1. And that's sparked all kinds of conversation about what's next for his character.
Surprisingly, it didn't seem like McHale was aware that the scene he had filmed for the season finale had already aired. Or, rather, it seems like he may have recently come back to re-film the scene for season 2. As I explained to him, I don't keep up with the show myself. But the season finale synopsis is clearly laid out on Wikipedia.
"Oh, is it really?" he says in amazement to the Wikipedia reveal. "We shot that a month ago. So wow, it already got on there."
Since you can't logistically film a scene a month ago for something that aired nearly a year ago, it leads me to believe that there's a lot more in store for Sylvester now that he's back.
After more confusion ensued on both of our ends, McHale says: "Ah, well, since you already know that I'm appearing in the last episode, I will reveal that I appear in the last episode… See what I did there? Boy, if I said anything, [creator] Geoff Johns would– he's got a small, like, missile system. And it can just lock into any address within 500 square miles of him.
"I mean, I will say: Brec Bassinger, she is a freakin' star. And she's like 21… and she is carrying that show. And then you have people like Amy Smart and Luke Wilson. And so they have this dream cast of people, and it's really fun to appear. I'll show up for a few days and put on the supersuit and say a couple of things. But I'll say, yes, somehow I am there, and I appear in the last episode."
Luckily, season 2 of Stargirl is set to premiere on The CW on Aug. 10, so all confusion about his character should be cleared up by then. (Hopefully, at least. We know how these shows love to keep us guessing.)
Otherwise, you can catch Joel McHale hosting a new reality competition show called Crime Scene Kitchen coming to FOX on May 26. And, as he describes it, "it combines baking with kind of, like, an unboxing video." Contestants will get the ingredients of a recipe a la a crime scene, and then they'll use their best investigative knowledge to try to recreate what they think the recipe actually was.
And if you'd like more information about Q Mixers and their specialty carbonated mixers, you can visit QMixers.com.